The Eternal Flame of UT Martin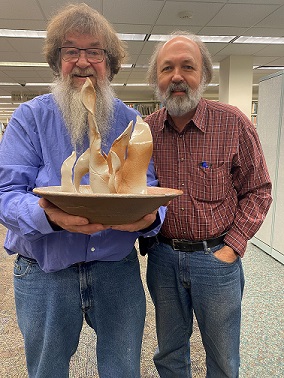 Above, left: David McBeth and Larry Holder with ceramic flame.
Above, right: David McBeth placing the ceramic flame, November 28, 2022.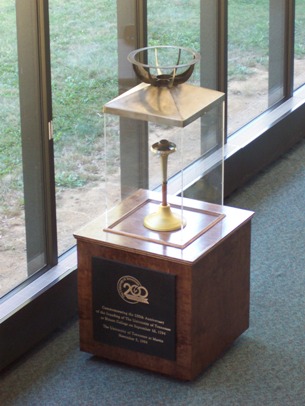 Above, left: original placement on 1st floor of library near Quad side windows.
Above, middle: original design, with dimensions based upon original brick-and-mortar structure.
Above, right: Prior to the ceramic flame completion, on 2nd floor of library midway down book stacks.
Originally on the 1st floor near the quad-side windows (photo on left).

Redesigned by Larry Holder, coordinated by Charley Deal, authorized by Chancellor Nick Dunagan.
Constructed by the carpentry team of Rick Bradberry, Noel Arant, and Richard Stallings under the direction of Tim Nipp.
The middle section encases the torch that was run across the state and lit the original flame.
The initial phase of reconstruction was completed in June 2007. The ceramic flame was added November 28, 2022.
Those attending included Chancellor Keith Carver, Charley Deal, Karen Elmore, David McBeth, and others.
---
The Original Flame (1986-2000)
As seen at sunset, looking toward the Paul Meek Library.
Photos &copy Emily Timm Elliston. Used by permission.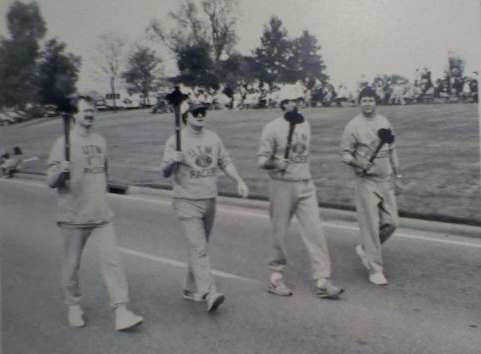 Running the torch.
"The University of Tennessee Alumni Torch Run ended on November 22, 1986 in Knoxville, Tennessee. The run ended with a one-mile "Fun Run" in Knoxville. All UT Torch Runners participants, other alumni and friends of UT Knoxville were invited to participate in the final leg of the event. Later that day during the half-time of the Tennessee vs. Kentucky football game, UT Knoxville Women's Basketball Coach Pat Head Summitt carried the torch into Neyland Stadium to officially end the torch run. The Torch Run involved more than 700 alumni participants throughout Tennessee who carried the Torch on a route through Knoxville, Chattanooga, Nashville, Jackson, Memphis, Martin and the Tri-Cities area. Congressman Ed Jones and Holland McCombs, retired correspondent for Time, Inc., manned the torch-lighting detail during the homecoming activities here at UTM, Saturday, November 1, 1986. The statewide Alumni Torch Run commemorated the 150th anniversary of the UT National Alumni Association. Jones and McCombs also received the Outstanding Alumnus and Distinguished Service Awards, respectively, during UT Martin's homecoming festivities."
Lighting the flame. 2nd Photo: Edward Boling (UT President), Margaret Perry (Chancellor), Holland McCombs, Ed Jones (Congressman)
Dedication speech by Chancellor Margaret Perry
---
The Key Components
The university catalog, describing the Ceremonial Mace used during commencement ceremonies, mentions
"...The oval surrounds artwork of the eternal flame presented by UT Martin alumni to the University
upon the 60th anniversary of the UT Martin campus." The plaque of dedication says: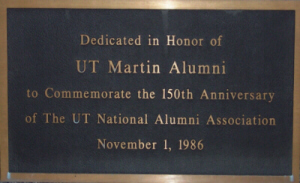 An additional plaque was added in 1994:
After the initial dismantling, both plaques were found at the university warehouse
and move into the library's Special Collections department by Karen Elmore.
The roof and bowl. 2x2 feet at the base, 14.25 inches tall, welded steel.
Stored in ROTC storage for the past 7 years. It was re-located by Tim Nipp:
The torch that was run across the state of Tennessee to light the Eternal Flame.
Stored until the reconstruction in the UT Martin Alumni Office, under the care of Charley Deal:
Its inscription reads:

USED IN THE UT NATIONAL ALUMNI ASSOCIATION
150TH ANNIVERSARY TORCH RUN ACROSS TENNESSEE
OCTOBER 7 - NOVEMBER 22, 1986

---

Photo &copy Emily Timm Elliston
Used by permission.

The Rise, Fall, and Ressurection

A view of the Eternal Flame as it once stood, looking westward toward the library from Crisp Hall. The plaque of 1994 is visible on its east side.

Before 15 years had gone by from its original dedication to the university, then-chancellor Philip Conn ordered the removal of the Eternal Flame, sometime in 1999 or 2000. Ironically, later that same year, Dean Jim Byford called for the chancellor's resignation for a multitude of other grievances, and before the end of 2000, Conn himself was removed from the campus.

Thanks to our UT Martin administrators, craftsmen, and artisans, our Eternal Flame has been freed from its darkest hour and restored to its rightful place as a fitting testimony to the enduring spirit of our University and to all who call UT Martin our Alma Mater. May it never again be removed from public viewing.

Respectfully,
Larry Holder
Class of 1981