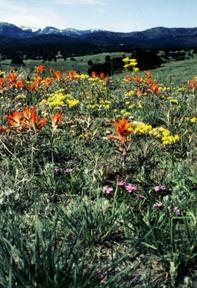 Photo &copy 1996 Mary Saxton [Griffin].
Used by permission.
From the Ruidoso NM Portfolio 2 at
www.zianet.com/msaxton
"Make A Joyful Noise"
Music by Mark Wilkinson, Words by Larry Holder.
Copyright &copy 1998 Mark Wilkinson and Larry Holder
MIDI sequence (P) 1998 Mark Wilkinson

For permissions, please refer to
Larry's Songs of Praise and Worship.

[MIDI File] [Sheet Music]

Feedback is appreciated. Just send a short e-mail note to larry@larryholdermusic.org
and let me know what you think of this song and/or this method of outreach.

Mark is a computer programmer and composer in London, England. He wrote the music and sequenced the MIDI, and I added the words. Mark plans to build a website for his songs, and til then I'll host our collaborations here, of which this song is a first.