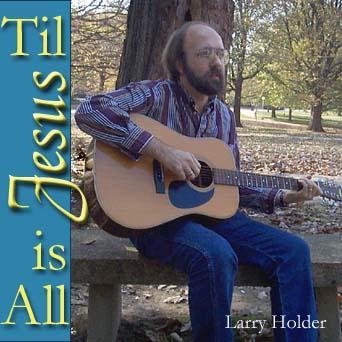 Here are the track titles. Three songs, "Til Jesus Is All", "Even Me", and the "Holy/When" arrangement, are newly published. The rest of the songs are already available as MIDI and musical scores on this website. MP3's from the album are also available on my page at www.soundclick.com/larryholder.
The Cross and The Crown
My All-In-All
A New Covenant
All Of My Heart
Tuyo Soy (I Am Yours)
Til Jesus Is All
More Than A Child
He Brings The Sunshine
Even Me
Holy, Holy, Holy / When I Survey The Wondrous Cross (new music/arrangement)
Til Jesus Is All
Order your own copy today!   Each copy is individually prepared.

Preview the songs on soundclick.com.
---
Recorded at First Baptist Church, Martin, TN and Maple Street Studio, Dresden, TN.
Sound engineering by Randy Lackey.
Cover photography and design by Bruce Harrison.
Produced by Larry Holder.
Our recording technique was primarily live performance (complete takes, performed in our church auditorium as a sound stage) captured on a minidisc recorder. I was able to prepare some of the instrumentation ahead of time, using MIDI to capture live playing on a Roland keyboard (such as the piano on "A New Covenant") as well as to sequence a few instruments (such as the flute on "More Than A Child"). I also recorded a couple of acoustic instruments ahead of time at home, including the guitar on "More Than A Child" (using an acoustic guitar pickup going into the sound card microphone input) and the piano on "Holy Holy Holy" (using a microphone going into the sound card). With these two songs, I was able to prepare with the help of music software such as PowerTracks Pro Audio from PGMusic, and then burn the results to a CD, which I then sang along with in a recording session to produce the combined results.
We finished up recording in two sessions, at Maple Street Studio in Dresden, TN. During the final session, we added vocal overdubs on several songs, and also a 2nd guitar overdub on "He Brings The Sunshine". Then Randy used the studio equipment to get final leveling, add some reverb, and produce the final master by bouncing from one minidisc recorder to another. Thanks also to Andy Willhite for making room for our studio time, to Daniel Doss for use of the 2nd minidisc recorder, and to First Baptist Church for the use of the auditorium and sound system.
Thanks also to Paul Tinkle, Chris Brinkley, and the staff at WCMT radio of Martin, TN, for broadcasting several of the songs from the album on their Sunday morning Gospel Music program.