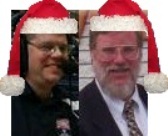 Chris Brinkley & Paul Tinkle
As heard on WCMT radio 1410 AM, Martin, Tennessee

Words by Larry Holder
Music by Larry Holder and Jim Byford


You've never heard an odder tale
Than what I'm 'bout to share
But it is worth repeating now
For all you folks out there
About the time that Santa Claus
Came to Martin, Tennessee
And on his rounds in this fair town
Had a freak emergency.

Seems that Rudolph with his nose so bright
Didn't see our water tower
And sure enough, he smacked that thing
And the sleigh lost all its power.
Santa fell and broke his ankle
Couldn't walk and couldn't run
So he finally grabbed his cell phone
And he dialed 9-1-1.

The took him out to Volunteer
But as he sat in bed
He knew he had to get things done
And this is what he said:
"It's Christmas Eve, the sleigh must run
And finish up its rounds!
I need a humble substitute
From this-here Martin town.

"I need someone short and chubby
With a beard somewhat like mine.
There's precious time a-wastin' --
Get Paul Tinkle on the line!
So they called the station hotline
At WCMT
And wouldn't you know, and things would go,
Both Paul and Chris were free.

They closed up the control booth
And raced to Volunteer
Paul put on Santa's coat and hat
While Chris grabbed all the gear.
They got the sleigh back on its way
It wasn't hard, you know
It has a Tom-Tom GPS
And is radio-controlled!

How Paul got down those chimneys
I really cannot say
But Chris and Paul, they did it all
Before the dawn of day.
Ol' Santa, well, he healed up fast
As elves are prone to do
And soon was gone, without a trace
Seen only by a few.

Then Paul and Chris, their mission done
To the station they returned
And started up the Morning Show
Though a rest they'd surely earned.
So there you have it, neighbor
So clearly I recall
That special year when Christmas Eve
Was saved by Chris and Paul!