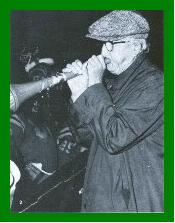 Alma Mater II (2010)
W/M Larry Holder '77
Arr. Robert Patterson '75
May the light of Central High
Brightly shine as years go by
Beacon of the hopes and dreams
That we've come to share.
Pride of Memphis, standing tall
Glorious fields and hallowed halls
Leading us to victory
In all we dare.
Thanks to all who've paved the way
Teachers we can ne'er repay
Coaches, Sergeants, one and all
Leading us to see
The future, it is in our hand
And by this truth we understand
That we can truly be the best
We strive to be.
Fellow Warriors, true and tried,
Wear the "H" with strength and pride
In the classroom, on the field
Second place to none.
A hundred years have gone before
And may there be a hundred more --
The legacy of Central High
Continues on!